Originally posted on Quad Community Press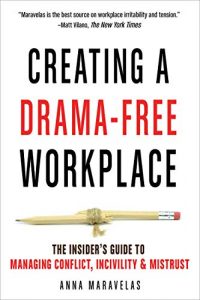 For over 30 years, an area author has worked to resolve more than 300 workplace conflicts and built a reputation for restoring trust, resolving conflict and improving productivity in organizations and businesses across the globe.
Anna Maravelas, a Circle Pines resident, released her second book earlier this month titled, "Creating a Drama-Free Workplace: The Insider's Guide to Managing Conflict, Incivility & Mistrust." The book expands on the concepts she published in her first book, "How to Reduce Workplace Conflict and Stress," published in 2005.
Maravelas, a licensed psychologist, always thought she would one day have her own private practice. She ended up working in organization development at Abbott Northwestern Hospital, where she was responsible for skill building with leadership staff and conflict resolution.
"Their number one need, as is with many organizations, was conflict resolution between groups/departments, within departments and between leaders," she explained. In 2002, she founded her own company, Thera Rising. Thera is a Greek word that means "to heal."
Every year, Thera Rising teaches
thousands of leaders, employees and human resources professionals how to preempt and resolve escalated conflict and mistrust. These strategies reverse workplace tension and disengagement — efficiently, painlessly and permanently.
"Malice rarely drives conflict. More often, lack of skill and insight allows disagreements to become destructive," Maravelas explained. "In our training and projects, we illuminate the common mistakes and far-reaching consequences that underlie destructive disagreement, while providing a proven process for a more unified future."
Thera Rising offers customized keynote sessions, seminars, customized leadership feedback and goal setting, resolution between pairs and more.
"If there is one thing I could change and replace, it would be for people to see how damaging drama venting really is," Maravelas explained. In drama venting, the disagreement is attributed to one's personality. Instead of talking to one another, Jack and Jill go behind each other's back and talk to other employees about the situation, thus creating factions/groups.
In all her years dealing with conflict resolution, Maravelas said she enjoys "watching the light bulb come on.
"Everyone comes to these workshops thinking 'I hope Jack really gets something out of this,' and then seeing them realize that they have done everything I've talked about," she said.
Thera Rising has helped clients all over Minnesota, the nation and even internationally. The company also offers a 'train the trainer' session to teach people how to teach these concepts themselves to their own companies. Thera Rising now has trainers in the U.S., England, Finland and South Africa. Maravelas said she is hopeful her new book will help her reach new audiences in other countries.
Andy Dahl, who happens to be Maravelas' neighbor, says living next to her has given him countless opportunities to talk about simple solutions to derailing conflict in the workplace before it becomes a big problem.
"One lesson in particular is the one about 'blame self, blame others.' So many of us get caught in that vicious cycle of blaming others, then blaming self, then blaming others, etc," Dahl said. "Instead, Anna teaches us to move onto self-reflection, and reflect on why we feel the way we feel and what might be causing the person in conflict to feel the way they feel. This puts those hard feelings in check, and quickly."
Another concept Dahl has learned from Maravelas is negative bias of the brain. "If we can understand that our brain is biased toward negative thoughts, then maybe recognizing that we're having negative thoughts will come sooner and moving on in a more positive direction can happen more quickly. Knowing this about ourselves is empowering, and we instantly become more aware," he said.
Maravelas already has her next book in the works, which will broaden her focus from the workplace to the principles of drama-free life. For more information about Thera Rising, Maravelas or her company, visit thera-rising.com.