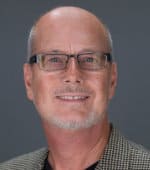 Steve Gainey, L. L.P., M.A.
Associate, Certified Trainer
Grand Rapids, Michigan, USA
Steve Gainey is a certified trainer in Conflict Savvy!. He has over 25 years experience working as a therapist in mental health. Steve has a Master's in clinical psychology and is a certified Advanced Alcohol and Drug Counselor and certified Acupuncture Detoxification Specialist. He is a graduate of a 3-year training in Integral Psychotherapy: a proactive approach to making lasting personal changes. Steve has worked at Employee Assistance Center for over 9 years, working with human resources on workplace conflict. Looking for innervated ways to work with individuals, teams and companies, Steve has found this approach is an exciting and solution-focused way of working with conflict.